Well, we all know that there is not a single bra in the world that fits everyone. There will always be someone who would fall out of even the most perfect-fitting bra. But as far as large breasts are concerned, one major issue women face is having space between their boobs and therefore not filling up the cup correctly, which results in wide set breast.
Nipples point south, and the gore doesn't tack are all common issues faced by women with wide set breasts. Problems are mainly encountered when choosing a bra that comes with molded cups or padded bras because they usually have an inner side seam, making your boobs look like they're touching each other to form one oddly shaped breast.
To avoid such a situation, you should know your breast type and the best bras for it so you can find something that would flatter your body shape. This article has covered some of the best bras for wide-set breasts that look good under clothes without making them look weirdly shaped or too far apart.
How Do You Tell if You Have Wide-Set Breasts?
Also called touching breasts, there is a sizeable gap in the breast. Place the finger at the sternum – an area between the breast. If you can place three or more fingers, you have wide-set breasts.
Especially for medium size breasts, this gap is annoying.
How to Fix Wide-Set Breasts?
The right brasserie is a magical fix that can take you out of any embarrassing situation.
If the gap is only on top of the breast, it might be a good idea to wear full coverage bras. It will provide more space in the middle and push the boobs to sides, making them look closer together. It can also help in giving lift and support. Don't wear very tight tops. As they will also make your boobs look wider apart.
How to Find the Best Bras for Wide-Set Breasts?
Apart from knowing your breast type, you should double-check if the bra has an expansive center gore.
It will help in bringing the boobs closer together.
Factors to Consider Before Buying a Perfect Bra for Wide-Set Breasts:
Here are the most important factors that one should consider before buying a perfect bra for wide-set breasts:
Straps:
Wider straps are more comfortable, but it is all about personal choices. Racerback or cross straps also bring the boobs together.
Cups:
Depending on the shape of your breast as outer full or center full, it is crucial to get the right cup size to get the right fit. If you choose the padded bra, its outer parts must be some support.
Cleavage:
For wide-set boobs, the push-up bra or plunge bras are the best bras deals as they get you the desired look. These bras can provide decent side support by giving your cleavage a life.
The band:
Look for the wider band if you are into weight lifting or intensive sports. The choice of band depends on the breast shape and size.
Gore:
A narrow and higher Gore works best for the wide-set boobs. Make sure that the gore sits flat against the sternum. If you are uncomfortable or the gore digs in, then the bra is not the right fit for you.
The closure:
Front closure bras bring the boobs together naturally.
Side support:
The bras with inner slings for side support are the best for wide-set boobs. As the breast goes sideways naturally, this bra provides support naturally.
10 Best Bras for Wide Set Breasts
Here is a list of 11 bras for wide-set breasts you can choose from:
Cleo by Panache Women's Mimi Balconnet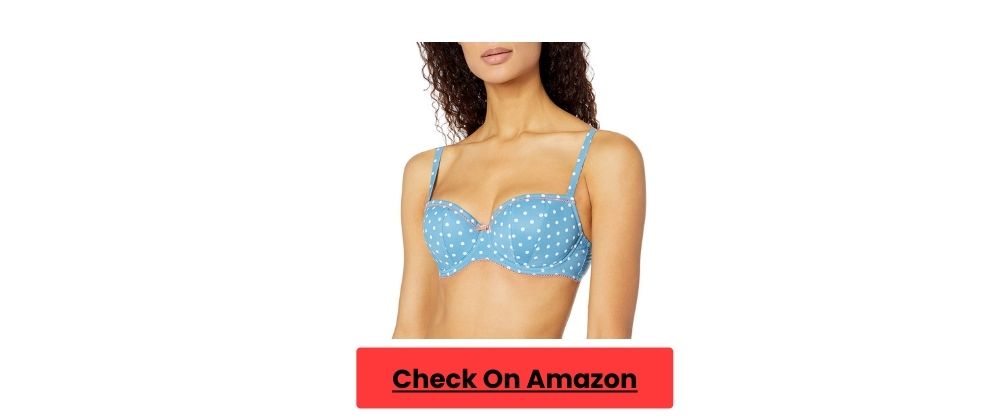 Color: Spot Print
Size: 28D to 38E
Looking for a balconette-style bra that provides excellent support and shape? Check out Cleo by Panache's Mimi balconnet! This stylish and comfortable bra is perfect for women with wide-set breasts and comes with a three-part cup for extra support.
A contrasting bow at the center front gives the bra an extra feminine touch, while a Delicate looped elasticated neck can be adjusted to provide you with great support.
Pros
Fantastic support
Looped elastic embedded delicately
Enticing center bow
Soft wire underneath
Cons
Made from Polyster fabric
Amazon Rating: 4.6/5 stars
Bravissimo's Alana Balcony Bra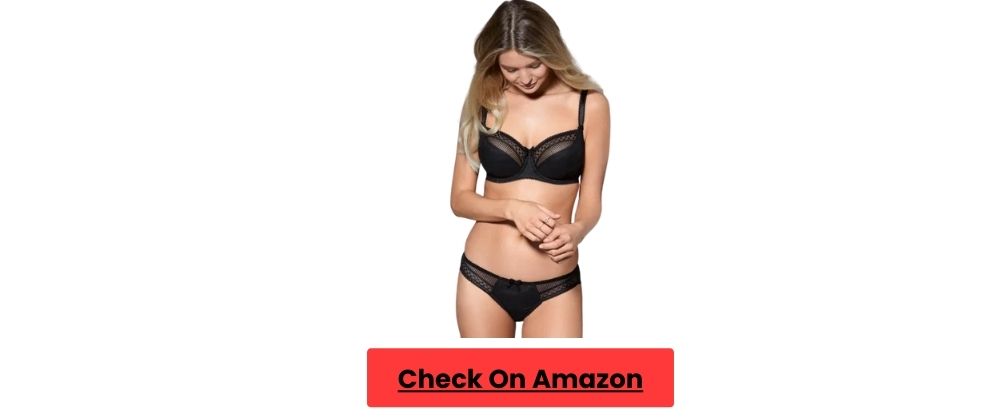 Colors: Black, Beige, White, Maroon
Size: 28DD to 40L
Bravissimo is known for its wide range of sizes and shapes in bras, including plus-size bras and nursing bras. This bra is a perfect pick-up for big-boobed women with its ultimate super support. As it is non-padded, this breathable bra delivers all-day-long comfort to its wearer. It comes with satiny straps and pretty bow details to accentuate your femininity.
The geometric lace pattern adds an exotic look to this bra. Equipped with a high gore, this bra is perfect for Side set and east west boobs. By providing firm support with its side padding, this balcony bra offers a clean leverage that any women wish for!
Pros
Excellent side support
stylish geometric lace design
Adjustable straps for a snuggly fit
Sexy and clean leverage
Cons
As it is a wireless bra, the support beneath the breast is considerably low
Amazon Ratings: 4.7/5 stars
CLEO KOKO PLUNGE BRA For Wide Breast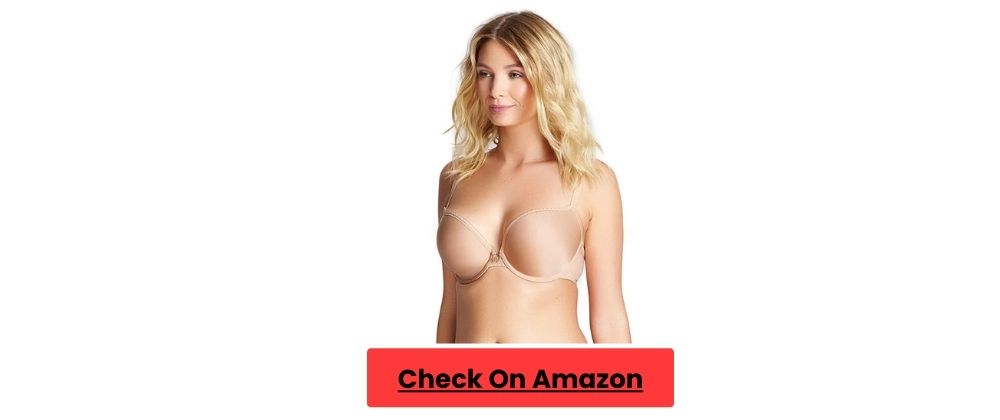 Colors: Black & Caramel
Size – 28E – 38H
A nice, supportive underwire bra with side panels is a definite must for any woman who wants to look her best and have a beautiful bustline. This one features extra-wide shoulder straps and padded, underwire cups with side support panels for added shape and modesty.
This bra is specifically designed for women with wide chests. It features a padded panel at the bottom of the cups to keep your boobs in place while keeping your back and shoulders comfortable. This bra has a plunging neckline covering your cleavage and is made from a stretchy material.
The CLEO KOKO PLUNGE Bra will support the natural shape of your breasts as they push against the cups. This bra provides firm support without feeling tight or uncomfortable.\
The only thing I would change about this bra is that the center gore is a little higher. That's just my personal preference. Other than that, it's a great bra!
Pros
· Fully adjustable strap
· Comfort-fit with quality fabric
· Cup and band are true to size
· Extra wider and corded gores
Cons
· Few customers complaint about uncomfortable underwires
Customer review: 4.4/5
Bali Women's One Smooth Underwire Full Coverage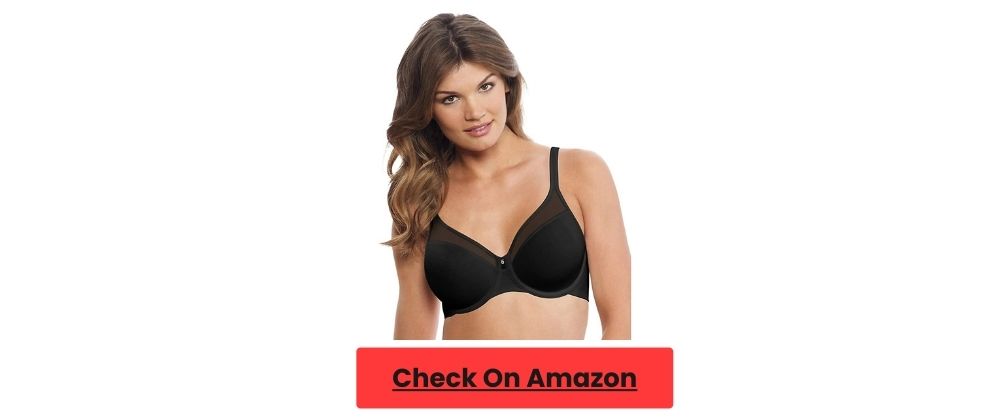 Color: Black, Nude, Intense Blue, Violet, White, Bahama Pink
Size: 34C to 42DD
It is a no-brainer. You need a supportive, full-coverage bra if you have "wide" breasts!
Don't put up with the sagging and discomfort of a poorly fitting bra. Get yourself a "boob job" by getting the proper support and sizing you need from the very beginning. It'll be worth it in the end.
Full-coverage bras have a center gore that runs from under your bust down to your waist. This feature gives you additional support and eliminates any chance of a gap or separation between the bra and the skin.
It is a lovely supportive bra. It features a 3-piece underwire construction with "plunge" padding and a non-removable stay-put underwire.
It has a nice soft feel, and it doesn't dig into or irritate my skin. I think it's a good choice for people who like a supportive bra but are on the fence about whether they need one.
It's not a cheap bra, but it's well-made, and I think it will last long.
Pros
Underwire bra for extended support
Exotic multiple colors to choose from
Additional coverage with center gore
Breathable and soft fabric
Cons
Underwire bra is not comfortable to wear all day long
Amazong Ratings: 4.2/5 stars
Playtex Women's 18 Hour Front Close Wirefree Bra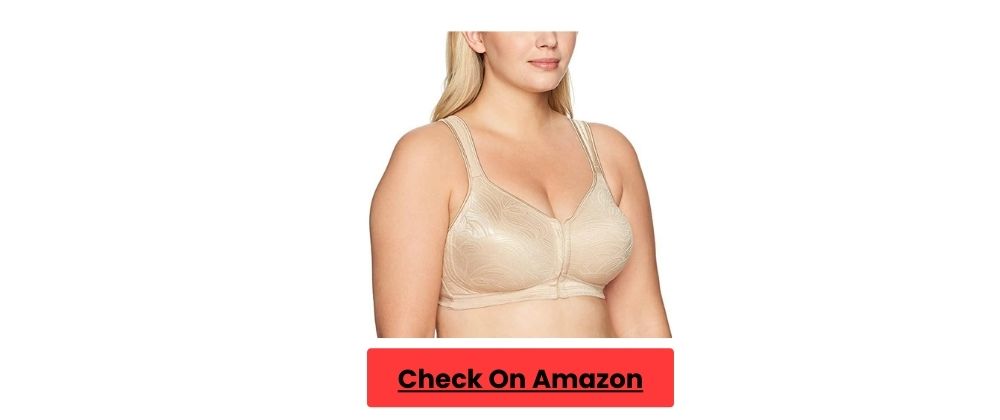 Color: Nude, White, Black, Light Beige
Size: 36B to 46DD
For most women with wide breasts, a bra that provides support is rare to find. Imagine being able to go about your daily activities without having to worry about your breasts falling over your armpits constantly. Imagine that support was provided by a super-comfortable, sexy, supportive bra. It sounds like heaven. Well, for some women… it is!
The Playtex 18 Hour is the best Wire free Bra that features a smooth cup shape and a unique Magic Rings technology for a better fit and support. The PowerSupportX back of the bra helps improve your posture and helps to support your back while providing comfort and fit.
This full-coverage bra comes with adjustable closure and comfort cushion straps to keep you in shape. They make great bras for those with bigger breasts because they offer tons of support. That means larger breasts are supported from the sides and bottom, and wide-set boobs are drawn toward the center.
Pros
· Classic lining to make it skin-friendly
· Comfort cushion straps
· Magic Ring design for additional support
· Adjustable closure with wireless bra comfort
Cons
· Few customers complain that it is not proper to its size.
Customer review: 4.4/5
Rosme Womens Balconette Bra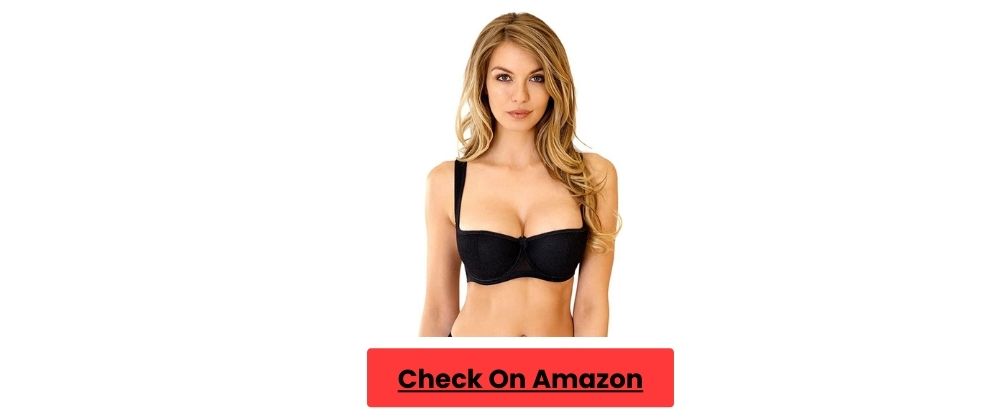 Colors: Black, Ivory, Beige, Red, White
Size: 32B to 52B
If you look for a gorgeous cleverage, you are all set to get it beautifully with this Balconette Bra from Rosme. Available in lightly padded cups, this underwired bra gives excellent support to your boobs.
The bra is made out of a soft material which gives it a nice touch and feels. The bra also has a back closure, making it easy to put on. It is also fully adjustable, which means that you can easily adjust the bra's fit.
This bra gives you a stunning cleavage with its clean and witty design. If you are looking for a bit of lift under your top, this bra does the trick. It's comfortable enough for most days, and it has plenty of room to move around. The design makes your boobs look great, and I'm sure you'll be getting compliments all the time.
If you are tired of push-up bras, this Balconette bra is ideal for east west boobs.
Pros
· Available in enticing colors like red and ivory
· works well with scoop neck dresses and tops
· Thin pads make it ideal for sunny days
· Adjustable straps for a better fit
Cons
· No lining in the bra cups
Customer Review: 3.7/5
Wingslove Women's Push Up Everyday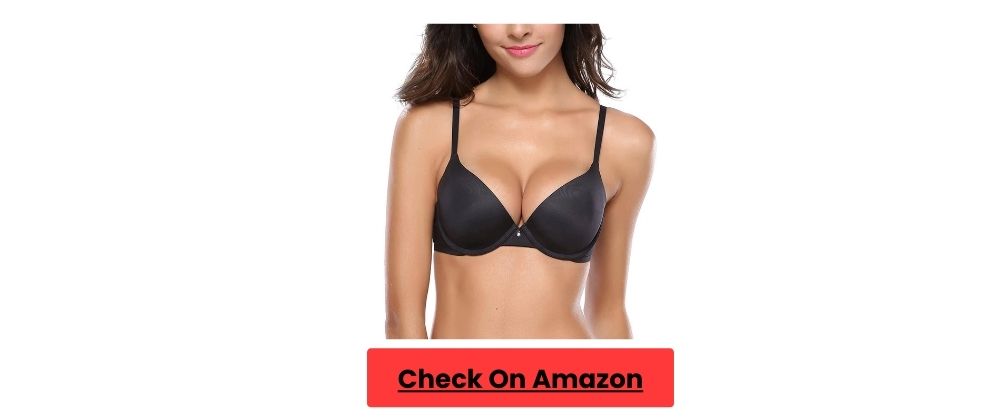 colors: Nude, Black, White, Baby Blue, Grey, Dark Blue
Size: 32A to 38DD
We got you covered with Wingslove women. Push up every day that gives you the desired look with utmost comfort.
When you have breasts that are too big or too small, you can feel out of place, insecure, and uncomfortable.
This bra is a "must-have" for any woman who values comfort and support. It features "push-up" cups with an extra thick contour band that pushes your breasts up and together, helping to create a more balanced look. The underwire is fully adjustable and can be moved to the center or the edge of the cup if needed.
The straps are wide enough to accommodate my broader shoulders but are still comfortable and not too heavy.
Pros
· Push the breast closer for a voluminous look
· Breathable fabric with adjustable straps
· Adjustable underwire plunge bra
· Available in the range of enticing colors
Cons
· Larger breast women may find it highly uncomfortable
Customer Rating: 4.5 stars
Women's Lace Unlined Balconette Demi-Cup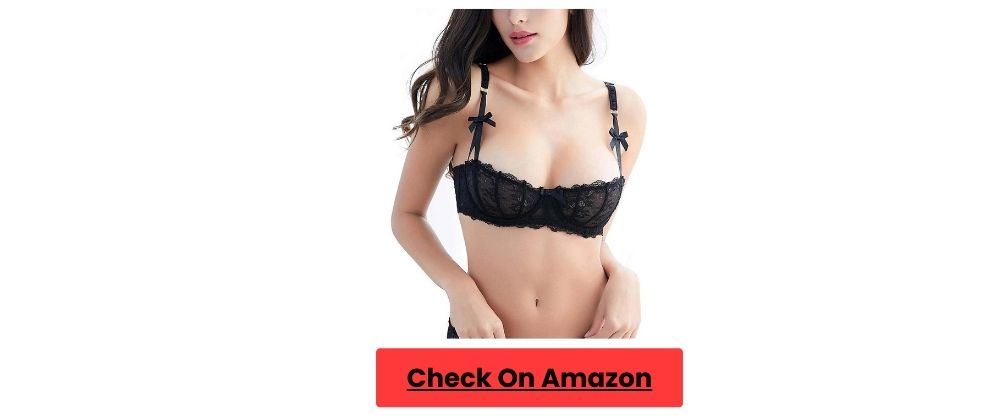 Colors: Black, Pink. White, Red
Size: 32A to 38D
Enhance your cleavage with this exotic bra from Sexy Code 1701. Crafted from intricate lacing, this Balconette Demi cup bra comes with an easy hook and eye closure. Available in the sensual color range, this lightweight balconette bra is highly breathable.
Pros
· Sexy and gorgeous lace design
· Stylish and adjustable straps
· Available with undies and panties as a set
· Stunning color options to choose from
Cons
· Many customers received inappropriate cup sizes.
Customer Review: 4 star
FallSweet Brassiere Padded Bra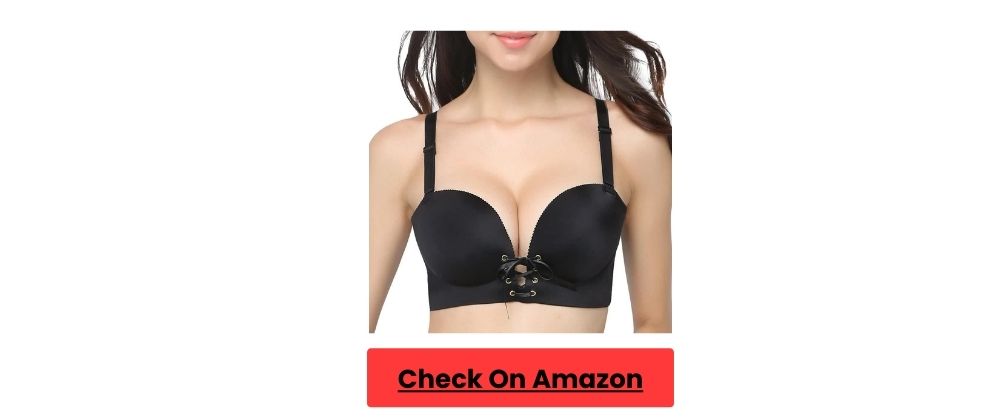 Colors: Beige, Black, White, Pink, Purples
Size: 32A to 40C
An incredible option that every woman must explore to accentuate her femininity. This brassiere gives your boobs excellent support besides great style with its perfect side padding. The adjustable straps help in achieving the perfect fit; if you are sick of those sagging lingerie pieces, it is time to swap them with this exotic Push up bra from FallSweet.
Available in an exciting color range, you can choose according to your mood and taste. This bra also features attractive prints like leopard, strips, etc., to choose from. What more! The flexible rope at the front allows you to adjust its fit by loosening or tightening it. The lace on the cups makes it very sexy without being vulgar. Make sure to order a size larger than regular to get the desired fit.
It is an excellent choice for a first date or any other kind of low-key evening out.
Pros
Available in wide colors and prints
Sensuous and adjustable front rope
Great side padding for the tremendous support
Three Hooks and Eyes for a custom fit
Cons
Not true to size, and you have to order one size larger
Customer Rating: 4.1 stars
Floral Lace Halter Bra Bralette
Colors: Multicolor
Size : 36B to 44D
If you are looking for a high-quality, stylish bra that offers excellent support and is made with comfort in mind, this is a perfect option for you. This bra features a v-neckline which will flatter any figure. It also has a comfortable, soft underwire with a breathable mesh lining.
It is a great everyday bra that you can wear all day long without feeling "tight." The intricate lace design with a scalloped edge makes it a good choice for any fashionista. The sewn on elasticated underband is ideal for a good fit. This wireless bra is the ultimate comfort to wear all day long without padding. This charming Bra from Jojoans is a must-have in your wardrobe. Available in six desirable colors, you would fall in love with your lingerie all over again. Slipping it under your evening gown is all you need for a hassle-free evening out.
Pros
Wireless bra for all-day comfort
Halter neck style works well with deep back neck dresses
Intricate lace design with a feminine touch
Breathable inner cups with mesh lining
Cons
Not compatible with deep front neck dresses
Customer Rating: 4.2 stars
Frequently Asked Questions
What bra is best for wide-set boobs?
Plunge neck, balconette, and push up bra are considered best for wide-set breasts. Always look for a bra with side support panels to avoid your boob spillage.
How do you make wide-set breasts closer together?
Using a Triangle-shaped or plunge bra is best to use wide-set breasts to push together. If you are looking for an everyday bra, go for T-Shirt Bras and get a clear cleavage.
Push up bras are best to consider for a classic cleavage look. The padding outside the bra sufficiently pushes the breast towards the center.
Conclusion
Embracing a wide set breast with the right lingerie piece is essential to gain the desired body shape. Choosing the best bra style that can shape your sagging boobs and provide the desired coverage is often confusing. Underwired bras with side support are the perfect bras that effectively help you deal with east west breast.